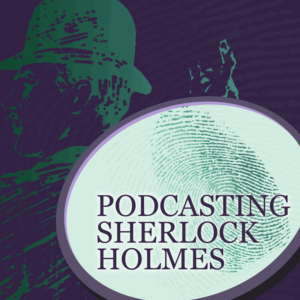 This is the class page for ENGL 200C at University of Washington in Autumn 2019, and also for the podcast the class is producing, Podcasting Sherlock Holmes.
This course focuses on two popular forms of "new" media: the podcast in the 2010s, and the detective story in the 1890s. We are using one to explore the other by writing, researching, and recording podcast episodes that explore the universe of Sherlock Holmes, one of the world literature's best-known characters.
In class, we are reading and discussing short stories, investigating the features of recorded language in order to understand the many possible ways it can be made effectively expressive. We are implementing this knowledge by making a podcast, developing compositional skills that address particular audiences and situations but also can be generalized across situations and media. These podcast episodes require the same level of rigorous analysis, planning, and composition more conventional essay assignments would. By learning how to craft this particular form, students will develop habits that help them communicate in different academic and professional settings.
For more information, contact Matt Poland at mjpoland at uw dot edu.
Podcast artwork by Lorenzo Lalimarmo.